ALL THE GUNPOWDER, TREASON, AND PLOT
A simple explanation of plot is this: what happens in a story. Strictly speaking, this is not untrue. But it also does not tell the whole story. In craft writing, the plot of a tale is so much more. It, for example, helps to define the genre of the story, the structure of the writing, the language used to describe scenes, settings, and actions, and it also, in some ways, chooses the characters who take part in the narrative, elevating some to the forefront of the story and others to its periphery. It is, at its craftiest, the "sell for the con" or the magic behind the trick. Plot is what keeps a reader reading and a writer writing.
In the fourth Doek Workshop plot as a means for creating tension, conflict, and movement in a narrative is explored with a particular emphasis on using plot to diagnose inchoate characters, enrich scenes, and inform the editing process. Then, focusing on the industry aspect of writing, the submission of stories to literary magazines for consideration, is examined in detail.
TUTORIAL SESSION DATES
Saturday, 18 Septemer 2021 (13h00—16h00) at the Doek Studio.
FACILITATOR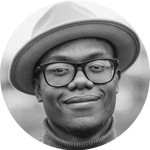 Rémy Ngamije • Doek's Founder • Chairperson • Artministrator
Rémy is a Rwandan-born Namibian writer and photographer. He is the founder, chairperson, and artministrator of Doek. He is also the co-founder and editor-in-chief of Doek! Literary Magazine.
PARTICIPANTS
Roxane Bayer • Kay-Leigh De Sousa • Charmaine //Gamxamûs • Ndawedwa Denga Hanghuwo • Katherine Hunter • Filemon Iiyambo • Dalene Kooper • Ange Mucyo
---
Cover Image: Journals
© Rich Smith.