THERE IS WRITING AND THEN THERE IS WRITING
The consummate storyteller who is interested in the works of their predecessors and peers, and in the wide world of books, knows the difference between writing and writing. The former demands basic language skills—like good spelling and grasping the rules of grammar to write sentences or paragraphs that convey information in a logical manner. The latter concept, which is more challenging and abstract at times, requires the wrangling of linguistic rules to tell a captivating story with sincerity and style. It requires deliberation, dedication, and discipline—this form of writing is a craft, and it is practiced with the intention of producing work that is ready for consideration, review, and, hopefully, eventual publication. These two forms of writing blur and merge at their margins, but they produce differing outcomes.
In the third Doek Workshop, it is the second form of writing—writing as a craft—that is explored in depth. In this workshop, aspiring writers are guided through the craft of writing using close reading and observation as compass guides. The origins and basics of story synthesis—of finding and choosing a narrative to write about—are investigated and the roles and responsibilities of a writer (as a storyteller in society) are also explored. Then, finally, industry insights into the publishing world are shared to provide aspiring writers with meaningful information which empowers them to make their first steps in the literary world.
TUTORIAL SESSION DATE
Saturday, 11 September 2021 (13h00—16h00) at the Doek Studio
FACILITATOR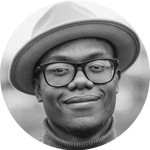 Rémy Ngamije • Doek's Founder • Chairperson • Artministrator
Rémy is a Rwandan-born Namibian writer and photographer. He is the founder, chairperson, and artministrator of Doek. He is also the co-founder and editor-in-chief of Doek! Literary Magazine.
PARTICIPANTS
Roxane Bayer • Kay-Leigh De Sousa • Charmaine //Gamxamûs • Ndawedwa Denga Hanghuwo • Katherine Hunter • Filemon Iiyambo • Dalene Kooper • Ange Mucyo
---
Cover Image: Journal.
© Rich Smith.