The Doek Anthology is a collection of writings from Namibia and Africa. It is produced every two years by the Doek Collective—a group of 8-10 Namibian writers who have been published in Doek! Literary Magazine, served on the Doek! editorial team, or participated in Doek's creative writing workshops—and a selection of other writers from Africa who have been published in Doek!.
Each iteration of the anthology focuses on a specific literary medium: fiction, nonfiction, poetry, or visual art (photography or illustration), or any combination thereof.
The Doek Anthology has three goals: firstly, to showcase some of the most promising Namibian and African literary voices from the continent to a local, national, and continental audience; secondly, to combine excellent storytelling with world-class design thereby creating a product that ignites a passion for reading; and, thirdly, to archive Namibian and African literature for preserved for future generations of readers and writers.
---
NOW NOW: The 2023 Doek Anthology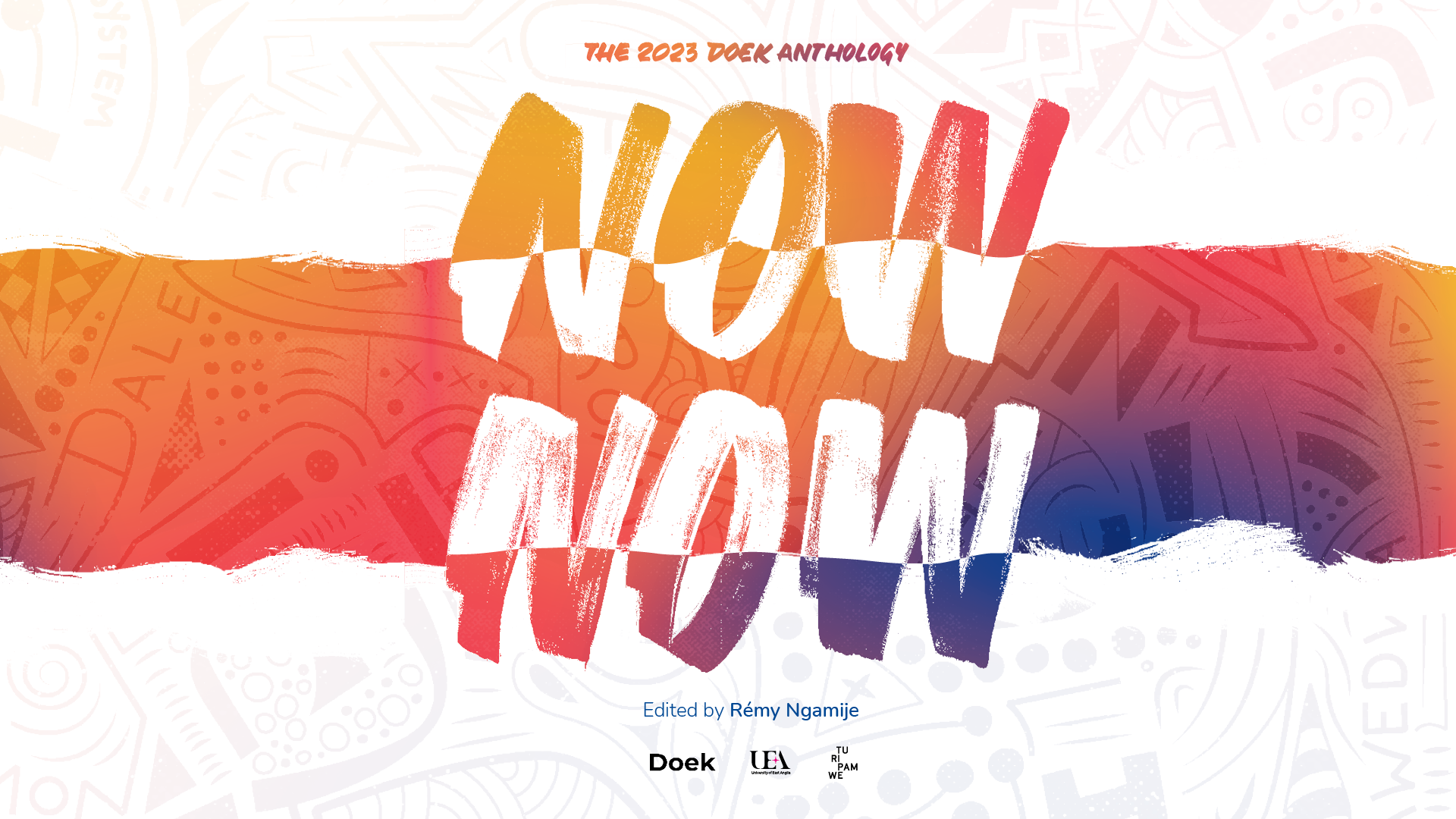 "Diverse, exciting, energetic, and brimming with talent."
In this bold collection of short stories four siblings spend a nostalgia-filled and truth-revealing night in their grandparents' house before it sold; a couple considers the bloom and doom of their relationship in the Namib Desert; a young mother struggles to breastfeed her newborn infant while confronting uncomfortable truths about her marriage; a post-apocalyptic Windhoek reveals intimate ways of surviving; rain in Northern Namibia brings much needed water and dreaded terror to the land; the life cycle of a frog traces a story of attraction and love; a man reflects on a life lived and potentially lost after a violent encounter; a bar filled with boredom becomes the backdrop for a rumination on time's passage; fire and anxiety burn without pause—and with great humour—in Cape Town; three portraits of war provide glimpses into the lives lived through and around conflict; two young boys discover the meaning of friendship in a small town; and a protest ushers in new and uncomfortable truths for Namibia's young and restless generation.
Written with heart, curated with care, and designed with love, the 2023 Doek Anthology curates emerging and award-winning storytellers from Namibia, Eswatini, South Africa, Zambia, and Zimbabwe that will surely become important voices in African literature.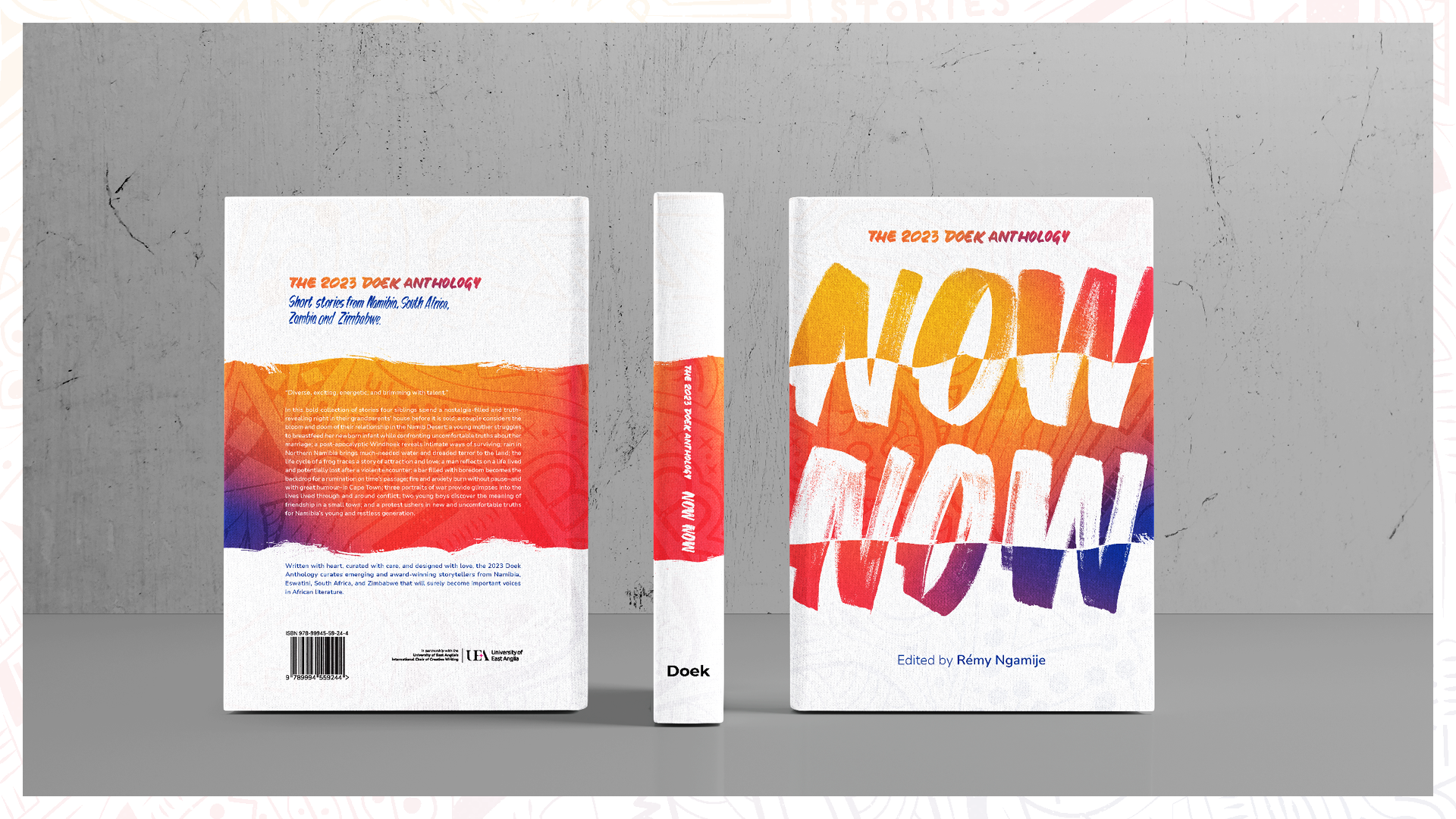 CONTENTS
"Bastards of Remember When" by Roxane Bayer (Namibia)
"Leave Love In The Desert" by Charmaine //Gamxamus (Namibia)
"Mastitis" by Mubanga Kalimamukwento (Zambia)
"Rosary, Key, Battery, Marble, Flash Drive" by Ange Mucyo (Namibia)
"When The Rains Come" by Ndawedwa Denga Hanghuwo (Namibia)
"Amphibian Means Both Life" by Zanta Nkumane (Eswatini)
"Eat Or Be Eaten" by Katherine Hunter (Namibia)
"They Say Change Is Inevitable" by Kay-Leigh De Sousa (Namibia)
"Make Busy" by Jason De Klerk (South Africa)
"War People" by Bongani Kona (Zimbabwe)
"My Friend Rajiv" by Dalene Kooper (Namibia)
"A Thousand Ungovernable Voices" by Filemon Iiyambo (Namibia)
Foreword by Jean McNeil
Introduction by Rémy Ngamije
***
ISBN: 978-99945-59-24-4
Publishing date: November, 2023
Design, illustration, and typesetting: Turipamwe Design
Proofreading: Ibilola Odunlami
Workshop facilitation by: Tsitsi Dangarembga, Jean McNeil, Rémy Ngamije, and Zukiswa Wanner
The inaugural edition of the Doek Anthology was made possible with the generous support of the University of East Anglia's International Chair of Creative Writing.

---
Cover Image: Bookshop.
© Cottonbro Studio.