Namibia is no stranger to struggle.
From being located between two of the oldest deserts in the world—the Namib (55 to 80 million years old) and the Kalahari (about 60 million years old—to its long march towards independence in 1990, Namibia presents its people with a demanding milieu which constantly challenges any sphere of life. Namibia's varying social, political, and economic landscapes are elemental and titanic in their wrath and beauty.
For the consummate artist, struggle of some kind—emotional, spiritual, or sociopolitical—is essential for meaningful artistic output. Namibia, then, despite its seemingly inhospitable terrains, is a fertile place for artists if they, like the flora and fauna who have adapted to the local conditions, are agile, tenacious, and creative with their energy expenditure. Doek is both respectful of and inspired by Namibia's harsh environment. It is built for the dream, but adapted to the desert. Doek plans, prepares, and builds for drought, not for rainfall. It uses whatever resources are available and takes advantage of the smallest opportunity to make a little do a lot.
The inspiration for Doek's organisational structure comes from a common feature of the Namibian landscape: a windmill and a reservoir—the former facing the wind and using a simple, abundant, and renewable energy source to pump water from the ground and depositing it into the latter, a store for a precious resource.
Using a similar model, Doek consists of a stable reservoir, the Doek Arts Trust (DAT) and its funds, and its energetic windmill, Doek Arts CC (the CC).
The Doek Arts Trust
The DAT—a charitable trust registered in Namibia—solicits donations from local and international donors and provides specific project funding to the CC, the sole vehicle through which it accomplishes its trust objectives.
The trust's fundraising activities are led by its patron and all donations are administered in a responsible, transparent, and accountable manner by the Board of Trustees after thoroughly assessing each proposed project's viability as well as short, medium, and long term impacts.
The DAT is currently fundraising to support the following projects and their associated costs:
Doek! Literary Magazine: editorial and contributor remuneration, web-hosting, and, producing the magazine's first print issue.
Doek Workshops (commencing in February 2021) focusing on fiction, nonfiction, poetry, and visual art: venue hire, facilitator remuneration, and, printing relevant literary resources.
The Doek Arts Trust's long-term objectives are to establish an arts centre for literary art practitioners and an endowment fund to support their activities.
PATRON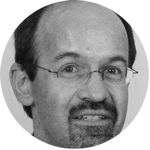 The Honourable Justice David Smuts
Nurturing keen interests in a broad spectrum of artistic disciplines—from literature to opera, photography to painting, and harbouring a deep passion for Namibia's artistic development—Justice David Smuts is the Doek Arts Trust's first patron.
Justice Smuts is a judge of the Supreme Court of Namibia and the author of Death, Detention And Disappearance (Tafelberg, 2019), a powerful and timely account of his legal efforts to hold power to account and defend human rights in the turbulent years before Namibia's independence. He holds a BA LLB from the University of Stellenbosch and an LLM from Harvard Law School. In 1990 he received an award as a Human Rights Watch Monitor from Human Rights Watch Monitor. Yale Law School also elected him as an Orville Schell Jr Fellow in that same year. In 2019 he was elected as a member of the American Academy for Arts and Science.
Justice Smuts has a long history of activism in Namibia. In 1988 he founded the Legal Assistance Centre, a public interest law firm which strives to make the law accessible to those with the least access. He played an important role in the abolition of the death sentence and lobbied extensively to end detentions without trial. Justice Smuts also co-founded The Namibian—the country's largest daily newspaper—a fierce opponent of the apartheid regime in Namibia and South Africa, the country's largest daily newspaper.
As a writer, Justice Smuts was awarded a Rockefeller Foundation's Bellagio Centre Residency in Italy. He is also a founding member of the Windhoek Writers Club which went on to launch Doek! Literary Magazine.
From his activism, human rights work, writing, and his ongoing support of Namibian artists, Justice David Smuts embodies artistic freedom through literary expression, creativity, and independence.
The Doek Arts Trust is honoured to have Justice Smuts as its champion and guide.
BOARD OF TRUSTEES
The composition of the Board of Trustees combines deep knowledge and experience with energy and practical idealism. The Board is able to draw on a wide spectrum of competencies, disciplines, and interests—from law to commerce, and from science to art—to fulfil the trust's objectives. Each trustee is a custodian and practitioner of Doek's values and infuses them in all aspects of their work.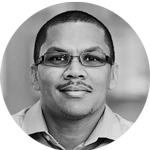 Jakob De Klerk • Treasurer
A chartered accountant and private equity manager interested in the challenges the local arts industry faces, Jakob De Klerk brings extensive experience in financial management to the Doek Arts Trust as its treasurer.
He currently serves as IJG Namibia's portfolio manager in their private equity department, having previously been their Group Financial Manager from 2012 to 2016. Jakob's abilities to combine advanced private equity knowledge with strategy implementation have found their true north with Doek: he is especially drawn to socially responsible projects and is keen to make a contribution to transparent methods of addressing funding gaps within the arts.
Jakob completed his undergraduate degree in accounting at the University of Namibia and obtained his Postgraduate Diploma in Accounting at Rhodes University. He also holds an MBA from the Gordon Institute of Business Science in South Africa.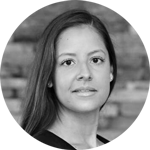 Advocate Bonita De Silva

Bonita De Silva is a legal practitioner, notary public, mediator, and the managing director of De Silva Incorporated, a boutique Namibian law firm. She is also an advocate of the High Court of South Africa. As the former Chairperson of the National Art Gallery of Namibia's Board of Trustees, Bonita brings considerable arts management experience to the Board. Doek's niche focus on the literary arts presents her with a fresh challenge: turning a budding Namibian arts institution into a successful, stable, and sustainable art citizen.
Bonita has served as a non-executive director of the Namibia Water Corporation, the Vice Chairperson of the Retirement Funds Institute of Namibia, and served as an independent trustee of two pension funds administered by Old Mutual Namibia: the Orion Pension & Provident Fund and the Protektor Preservation Fund. Her tenures on various auditing committees provide Doek with the skills it needs to be an accountable and responsible organisation.
Bonita is the Icelandic Honorary Consul in Namibia and holds BComm Politics, Philosophy, Economics and LLB degrees from the University of Cape Town and an LLM from the University of California, Berkeley.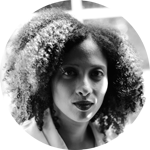 Cara Mia Dunaiski • Secretary
Cara Mia Dunaiski is an amalgam of scientific curiosity and analytical rigour that finds its artistic outlets in choral performances, dancing, and illustration. As a health sciences lecturer at the Namibian University of Science and Technology, Cara Mia provides the Board with a diligent and diagnostic approach to problem-solving which allows Doek to critically assess its project implementation procedures and archive its institutional knowledge.
Cara Mia finds her resonance in projects which promote increased and fair access to information and resources for literary artists in Namibia and lends her competence and professionalism to Doek as the DAT's secretary.
Cara Mia holds a BSc in Biomedical Science from the Polytechnic of Namibia and an MSc in Biomedical Science from Bonn-Rhein-Sieg University of Applied Sciences in Rheinbach, Germany. She is currently pursuing her doctorate in Medical Microbiology at the University of Pretoria where she was awarded a Commonwealth Scholarship.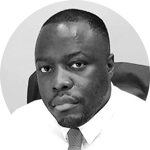 Louis Kato Kiggundu

Louis Kato Kiggundu bolsters the Board's financial savvy with experience gained from his role as Vivo Energy Namibia's financial director. He is also a director of KFC Namibia. Louis completed his BComm Accounting and Economics degree from Rhodes University and his MBA at the University of Cape Town's Graduate School of Business where he focused on leadership, emerging markets, and financial management. In addition to this he also holds an MComm in Financial Management Sciences from the University of Pretoria. Louis's academic concentrations and experience in two large Namibian commercial enterprises provide Doek with valuable local market adaptation expertise.
His artistic gravitation to music—especially hip hop, a genre that has long showcased the linguistic inventiveness, complexity, and ever-evolving consciousness of black artists—is mirrored in Doek's desire to be innovative, resourceful, and rooted in community-focused projects.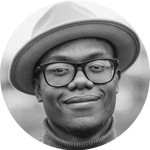 Rémy Ngamije • Doek's Founder • Chairperson • Artministrator
Rémy Ngamije is Doek's founder, the chairperson of the Doek Arts Trust, and Doek Arts CC's artministrator. His odysseys through advertising, marketing, education, entrepreneurship, and literature culminated in Doek's creation: an arts organisation committed to securing the long-term future of literature and writing in Namibia. Rémy is also the editor-in-chief of Doek! Literary Magazine.
As the Board's chairperson, Rémy provides creative, energetic, and supportive leadership. He is dedicated to ensuring Doek remains independent and collaborative, a champion of artistic freedom through literary expression, transformative, and committed to its Pan African and social justice ideals. As Doek Arts CC's artminstrator he is responsible for ensuring the execution of projects is resourceful and socially responsible. He constantly seeks unique and viable commercial opportunities and partnerships for Doek.
Rémy is the author of The Eternal Audience Of One which was first published in South Africa by Blackbird Books and is available worldwide from Scout Press (S&S). His work has appeared in publications such as The Johannesburg Review of Books, American Chordata, New Contrast, Necessary Fiction, Lolwe, and Granta among others, with more forthcoming in numerous publications. He won the Africa Regional Prize of the 2021 Commonwealth Short Story Prize. He was shortlisted for the AKO Caine Prize for African Writing in 2020 and 2021 and was also longlisted and shortlisted for the 2020 and 2021 Afritondo Short Story Prizes respectively. In 2019 he was shortlisted for Best Original Fiction by Stack Magazines.
He holds BA Law and LLB degrees from the University of Cape Town.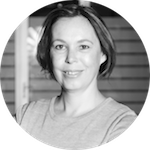 Heike Scholtz

Heike Scholtz's experience in the finance sector provides the Board with two competencies: sustainability assessment and strategy implementation—these are integral to the trust's goal to provide security and long-term viability to the literary arts sector in Namibia.
Doek's interest in simple and resilient operation models engages her problem-solving training as an engineer and her knowledge of project and infrastructure funding and management in the finance sector. As head of business strategy at the Development Bank of Namibia, she lends the Board rare analytical, evaluation, and reporting skills gained during her 20-year career in various infrastructure development, banking, and financial services roles.
Her engineering dissertation awakened an interest in the intersection of socio-economic development and art. This led to dabbling in industrial theatre during stakeholder consultations on infrastructure development in informal settlements. Other artistic pursuits include collecting locally produced arts and crafts pieces, attending to her collection of classical literature, and amateur pottery.
Heike completed her civil engineering, MBA and MPA (Infrastructure Finance) degrees at the University of Pretoria.
Doek Arts CC
As the vehicle through which Doek carries out its projects, Doek Arts CC—a close corporation registered in Namibia—is an adaptable business unit empowered to pursue, initiate, and execute artistic and commercial opportunities on its own in an innovative and sustainable manner. The CC is the power line connecting the DAT to its on-the-ground activities and is an independent entity capable of adjusting its own internal procedures to attune to each undertaking's specific needs. Combining artistic sensibilities and experience, marketing and advertising skills, entrepreneurial expertise, and legal knowledge, the artministrator—Rémy Ngamije—is the CC's chief executive officer and is responsible for all of its operations which are run on a project-basis to maintain efficiency and ensure sustainability. Its undertakings are assessed for their originality, financial viability, and social impact.
Portions of the CC's incomes are forwarded to the Doek Arts Trust (DAT) for the fulfilment of the trust's long-term objectives: the creation of an arts centre and an endowment fund supporting the arts.
---
DOEK'S ATTORNEY ON RECORD

Tshuka Luvindao

Doek is advised and represented in all legal matters by Tshuka Luvindao, a senior associate at Dr Weder, Kauta and Hoveka Incorporated, one of Namibia's top law firms. Tshuka holds a B.Juris LLB degree from the University of Namibia and an MEng in Mines from Paris Tech. He also completed his Management Development Programme at the University of Stellenbosch Business School.
As a legal practitioner, Tshuka specialises in commercial, contract, and insurance law as well as criminal and civil litigation. He ensures all of Doek's business complies with all relevant local and international laws. As a director at Project Hope Namibia, a global non-profit which works to address the burden of HIV/AIDS in the country, Tshuka also consults on matters concerning social responsibility, strategy, and reporting. Further experience as a trustee of the Namibia Infrastructure Equity Investment Fund Trust adds depth to Doek's corporate governance practices.
Tshuka's knowledge of Namibia's legal and commercial structures was vital in the conceptualisation and registration of the Doek Arts Trust and the CC.
ACCOUNTING OFFICERS AND FINANCIAL REPORTING
Doek's accounting and financial records are maintained by Grant Thornton Neuhaus, a tax, audit, and advisory firm based in Namibia. Thorough statements of the Doek Arts Trust's financial undertakings, performance, and health are compiled annually and made available to donors and partners.
---
LEGAL
DOEK ARTS TRUST
Established: 24 October 2020
Designation: charitable trust funding the literary arts in Namibia
Registration number: T306/2020
Reporting: annual
DOEK ARTS CC
Established: 05 September 2019
Registration number: CC/2019/06675
Reporting: annual
---
Cover Image: Where There Are Birds, There Is Water.
Farm Isabis, Erongo, Namibia. 2019.
© Rémy Ngamije.