Disappointment is inevitable.
These are the supreme laws of the desert:
times are hard for everyone and everything;
the rains might not come (and if they do they might not last long);
speed is the enemy of success (nothing is quick or easy—anything that is rushed cannot last);
any endeavour must have a specific goal (efforts must be creative and efficient);
expectations must be constantly adjusted; and,
past or present successes do not guarantee favourable outcomes in the future.
Hope and art are needed.
This is what artists have always known:
disappointment is inevitable;
times have been and will always be hard;
art is not easy (it takes time and effort to produce anything that touches the human spirit);
the artist's duty is to constantly produce in, around, and through prevailing struggles;
an artist's work brings hope; and,
through their commitment to their craft each artist holds space for the next one.
As an arts organisation in Namibia, Doek is not discouraged by its location in a challenging geographic, social, political, and economic landscape. Rather, guided by John Muafangejo's timely and locally relevant wisdom, the organisation is committed to working within and transforming its local, national, and continental environments.
Starting small, working with available resources, feeling, appreciating, and learning from the wisdom and warmth of other suns, Doek courageously steers by its own stars.
Through its work Doek is committed to bringing hope and optimism to Namibians and Africans in spite of past, present, and future difficulties.
Continuously inspired by Namibia's history, its promising future, its resilient people, and its diverse cultures, languages, and landscapes, Doek's is inspired to:
hold on—vasbyt (Afrikaans)

be strong—kora (RuKwangali)
take a chance—Trau dich (German)
and, push on—//gūbasen (Khoekoegowab), komesho (Oshiwambo); kondjiza (Otjiherero); zwelapili (siLozi); zwile habusu (Subia).
On its intrepid journey Doek's identity is shaped by the following unique principles:
artistic freedom • literary expression • independence • creativity • Pan Africanism • community focus • accountability and transparency • equality • diversity • trust • sustainability • custodianship
Doek's core values are daily compass points that guide its work and ensure it remains on the path towards its ambitious goals. These values are:
leadership • teamwork • innovation • transformation and social justice • integrity • responsibility • competence and professionalism • resourcefulness • simplicity • focus • passion • empathy • respect • perseverance • hope
---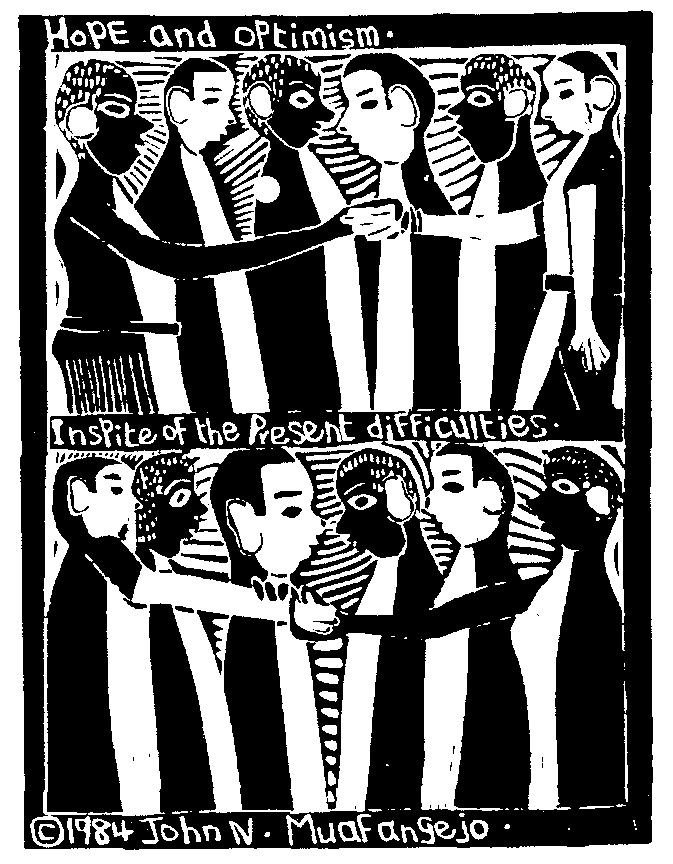 ***
About John Muafangejo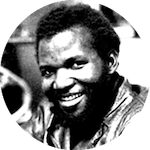 John Ndevasia Muafangejo (born 5 October 1943 in Angola; died 27 November 1987 in Katutura, Windhoek) was a Namibian artist who achieved international fame for his woodcut prints which often combined images with text. Rendered in stark and powerful black and white contrasts, his linocuts often depict people and events, especially the history and culture of the ovaKwanyama, Muafangejo's cultural clan, who live in northern Namibia and southern Angola.
Muafangejo's work also depicted Namibia's social and political challenges during the country's struggle for independence. He is considered to be Namibia's most influential visual artist.
Doek's simple black and white aesthetic is inspired by Muafangejo's work.
---
Hope And Optimism. 1984.
© John Muafangejo Trust.
Cover Image: The Place We Do Not Want To Live.
Katutura, Windhoek, Namibia. 2014.
© Rémy Ngamije.